Best ways to protect your rental property in Abilene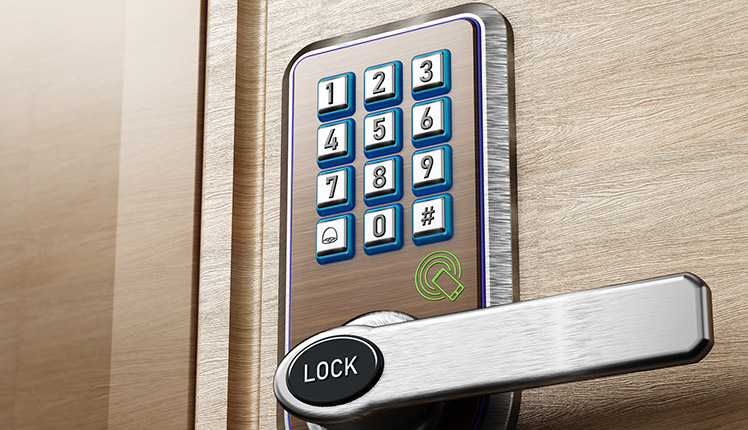 Whether you rent out a single investment property or have a diverse portfolio of Airbnbs, it's often difficult to protect your rental properties in Abilene. With a constant turnover of renters, it's simple to lose a key at checkout or discover you're no longer in possession of an expensive item. And what should you do in the event of a fire or flood at the property while it's being leased?
From smart locks to completely automated home security packages, here are some top recommendations on how to protect your Airbnb in Abilene.
Eliminate those easy-to-lose keys when you use smart door locks
When a guest vacates the premises, they could follow your instructions and provide the keys for the next guest. On the other hand, if a tenant grabbed or secretly made copies of a key, they would be able to access your place again at a later time. Needless to say, you have the option to change the locks if a key is "misplaced", but that creates delays and cuts into your revenue.
Thankfully, you can put in smart door locks that work along with your home security system to counter these concerns. Then, you can give each visitor their personal code number for entry. When they depart, there's no need to worry with the key exchange. Instead, simply customize the door code to expire after they're gone. If former lodgers come back and try their old code on the keypad, you will be alerted with an update on your smartphone.
A smart security system makes empty properties look occupied
The goal is that your Abilene rental property will have a steady flow of renters, but that's not always true. Despite this fact, you need to give an impression that someone is home so your Airbnb isn't an easy mark for burglars. Implementing home automation into your property's security gives you the chance to take advantage of smart lighting, motion detection equipment, and security cameras that make your rental appear lived-in.
You can put your plan in motion by setting your smart lighting to turn on at specific hours of the night. Then, use your security app to notify you if your video cameras detect an intruder lurking in the dark or approaching your main entrance. You then are able to take advantage of the 2-way talk feature to make them aware that you're watching or program your lights to automatically come on when a camera or motion detector discerns suspicious activity.
Protect your Abilene Airbnb with around-the-clock monitoring
Your renters can sleep easy if they are safeguarded against criminals, especially when Abilene is not familiar to them. In the event a thief tries to invade your property, your home security system will not only sound a siren but will also ping your 24-hour monitoring team. Now, no matter where you are, help will be forthcoming. Your monitoring experts will even act as your point person and patch you in as soon as you're free.
In addition to home invasions, your monitoring team can link to fire alarms, flood detectors, and carbon monoxide detectors. It would be understandably upsetting for your guest if a pipe bursts or something catches fire. You not only will get a smartphone update that an emergency has taken place, but the monitoring agent will also coordinate emergency services while you're in transit.
Order your new home security system in Abilene
Protect your Abilene rental property with a home security system. Luckily, Vivint offers popular choices like smart lighting, smart locks, and 24-hour monitoring. Touch base with us today and our security specialists will design a system that's ideal for your property. Call (325) 378-0098 or submit the form to get started!