Tips for using the Vivint Smart Hub in your Abilene smart home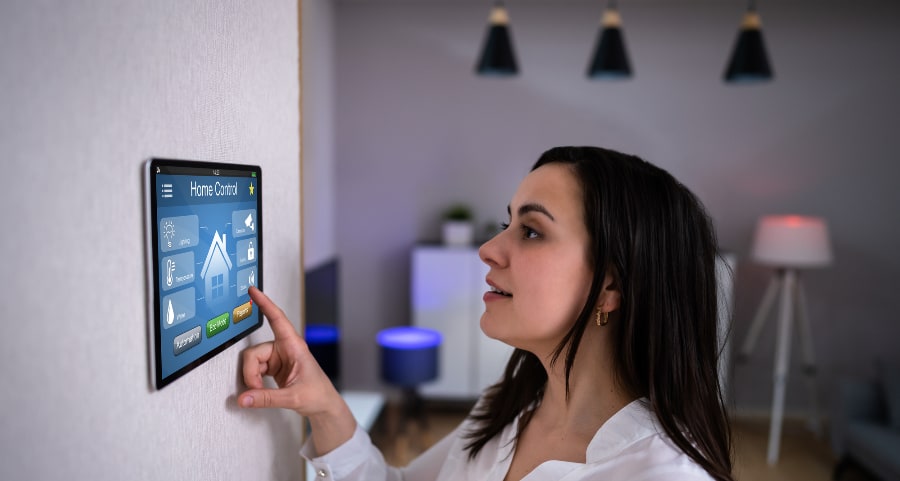 At the center of your home's security, the Vivint Smart Hub connects your cameras, security sensors, thermostats, and locks into a single unified system. This easy-to-use, 7-inch color touch-enabled panel puts you in complete command of your Abilene home's security and automation. Get a better idea of what it can do and check out tips to get started.
How can you use the Vivint Smart Hub in Abilene?
Connecting wirelessly to devices via radio frequencies and the Z-wave communications protocol, the Vivint Smart Hub is the command center for your residence. You can disarm or arm your system, operate lights, set the temperature, and more. When integrating a doorbell camera, you may even speak to someone standing at your door. The Vivint Smart Hub has cellular functionality and a backup battery for added reliability. It also provides total remote access and control with the Vivint cell phone app.
Here are some of the duties you can execute:
Review real-time or recorded footage from your integrated security cameras
Arm or disarm your system
Toggle lights on or off
Operate your garage door
Adjust your home comfort settings
Communicate directly to your monitoring center
You can boost convenience even more with your Vivint Smart Hub in Abilene by programming schedules or initiating rules. For instance, you might have your smart thermostat adjust automatically every night at a particular time. Or, you can set preferences like having your front door unlock if the smoke detector goes off.
Tips for arming and disarming your system
Before you delve into all the terrific things your Vivint Smart Hub can do, you'll need to understand how to arm and disarm your security. It's straightforward - just follow these instructions:
Touch the shield icon on the home screen and swipe to the right for "Away" and left for "Stay."
Stay means you will still be present in your house and arms all devices except interior doors and motion detectors.
Away indicates you will be gone, and each sensor in the home will activate.
To disarm, just slide the shield icon down and enter your PIN.
You'll observe a warning if the system isn't ready to arm. For instance, an open door will cue you to take action. Note that you may still arm the system by adhering to the steps above. You will then confirm you want to ignore the sensor that isn't engaged.
Add or remove users to your Vivint Smart Hub in Abilene
Although many users can be programmed during the initial installation, you will likely want to add an additional user in the future. Here's how to do it.
Tap the menu icon (three dots) on the bottom right corner of the main screen.
Tap "Users" and type in your PIN.
Select "Add new user" near the bottom.
Tap "Name," enter the new user, and hit the Next button.
If you wish to give the user remote access, select phone or email and submit the info to deliver an invitation.
Touch Next and then enter a PIN for this new user.
To take out a user, just proceed to the menu, press users, pick the user you want to get rid of, and then tap "Delete User."
Automate and secure your home with Vivint
Are you ready to take command of your home's automation and security through an easy-to-use touchscreen interface? You'll appreciate the Vivint Smart Hub and your new Abilene security system. Call (325) 378-0098 to get started.